CanvaKala the NEW WordPress Plugin that will allow you to have Photoshop-like effects right inside your WordPress Blog – AND have LAYERS TOO!!!  Layers in WordPress, OMG!!!
————————————————————————————————-
PLUS:  22 bonuses from me (WILL BE ADDED in your JVZoo member area.
These have not been added yet, so contact me if they are not there when you buy!
————————————————————————————————-
CanvaKala's features include:
– Add to any WP Site in 30 seconds
– Finds 2 Million+ Images – Instantly for your use.
– Adds a Full Photoshop like Editor to your site.
– Apply Instagram like Filters to all your images – in 1 Click.
– Adds 100+ Special Effects and Google WebFonts
– Create & Edit Unlimited Images – with LAYERS Support
– Newbie Friendly, Fully Tested – No tech skills needed.
– Every WordPress Site on the planet needs this…
Check it out and get it here: http://rozfruchtman.com/CanvaKala
DOORS OPEN AT 9am EST on 15th Aug
You'll NEVER have to spend more than 5 seconds finding Images or Fire up a Photo-Editing Software ever again while creating your blog posts/content…
(Ok, that is what they are saying, if you are anything like me/Roz, it may take you a little longer to pick out just the perfect image for YOUR blog post or other image content.  But that's a personal choice! The CanvaKala WordPress Plugin WILL CERTAINLY help make YOUR LIFE so much simpler.  I use Photoshop daily, and sometimes it would be great to just be able to whip up an image quickly! ;)
Check it out and get it here: http://rozfruchtman.com/CanvaKala
Thanks for reading.
Roz Fruchtman @PhotoshopHaven
http://www.Facebook.com/groups/PhotoshopHaven
http://www.Twitter.com/PhotoshopHaven
This is a test post to see why the Gravatar is not showing up.  It will be removed shortly.  As you can see, it is ONLY the last couple of blog posts that are missing the Gravatar!
A while back I came upon a short story I felt described each of us at one time or another ~whether we're willing to admit it or not!  I present it to you below.
Leaving the City of Regret
by: Larry Harp, Heartwarmers4u
I had not really planned on taking a trip this time of year, and yet I found myself packing rather hurriedly. This trip was going to be unpleasant and I knew in advance that no real good would come of it. I'm talking about my annual "Guilt Trip."
I got tickets to fly there on Wish I Had airlines. It was an extremely short flight. I got my baggage, which I could not check. I chose to carry it myself all the way. It was weighted down with a thousand memories of what might have been. No one greeted me as I entered the terminal to the Regret City International Airport. I say international because people from all over the world come to this dismal town.
As I checked into the Last Resort Hotel, I noticed that they would be hosting the year's most important event, the Annual Pity Party. I wasn't going to miss that great social occasion. Many of the towns leading citizens would be there.
First, there would be the Done family, you know, Should Have, Would Have and Could Have. Then came the I Had family. You probably know ol' Wish and his clan. Of course, the Opportunities would be present, Missed and Lost. The biggest family would be the Yesterday's. There are far too many of them to count, but each one would have a very sad story to share.
Then Shattered Dreams would surely make and appearance. And It's Their Fault would regale us with stories (excuses) about how things had failed in his life, and each story would be loudly applauded by Don't Blame Me and I Couldn't Help It.
Well, to make a long story short, I went to this depressing party knowing that there would be no real benefit in doing so. And, as usual, I became very depressed. But as I thought about all of the stories of failures brought back from the past, it occurred to me that all of this trip and subsequent "pity party" could be cancelled by ME! I started to truly realize that I did not have to be there. I didn't have to be depressed. One thing kept going through my mind, I CAN'T CHANGE YESTERDAY, BUT I DO HAVE THE POWER TO MAKE TODAY A WONDERFUL DAY. I can be happy, joyous, fulfilled, encouraged, as well as encouraging. Knowing this, I left the City of Regret immediately and left no forwarding address. Am I sorry for mistakes I've made in the past? YES! But there is no physical way to undo them.
So, if you're planning a trip back to the City of Regret, please cancel all your reservations now. Instead, take a trip to a place called, Starting Again. I liked it so much that I have now taken up permanent residence there. My neighbors, the I Forgive Myselfs and the New Starts are so very helpful. By the way, you don't have to carry around heavy baggage, because the load is lifted from your shoulders upon arrival. God bless you in finding this great town. If you can find it — it's in your own heart — please look me up. I live on I Can Do It street.
____________________________
Larry Harp was a minister with a passion for poetry. He lives in Bedford, TX.  His present disability has given him time to work on his forthcoming book, "The One Thing I Do."
Roz's Take on Regret
I left the City of Regret years ago, NEVER to return again!  If you are a lifetime learner like me…
Regret can be healthy WHEN we use it to learn. Personally I believe there is a lesson to be learned in most things. It's comforting to me to believe this way.  While we can't always go back to correct, we can use our knowledge as a lesson to help and/or inspire others to not make the same mistakes we did or to show compassion and understanding when they do. ;)
On the other hand, sometimes we can make better choices based on the mistakes that caused our regret!  It's as simple and as easy as that!
COMMENTS
I would love to hear your thoughts and comments.  Please share them in the Comment Box below. I look forward to sharing with you. Let's create a "community of encouragement and inspiration!"
Have a good day!
LET's CONNECT
Follow Me on Pinterest
http://www.pinterest.com/SayItWithAQuote/
Follow Me on Twitter for *Hourly* Encouragement Tweets
http://www.twitter.com/QuotesThatSayIt
Be My Friend on Facebook
http://www.facebook.com/rozfruchtman
Connect With Me On LinkedIn
http://www.linkedin.com/in/rozfruchtman
Luv & Hugs,
Roz Fruchtman
http://www.SayItWithEcards.com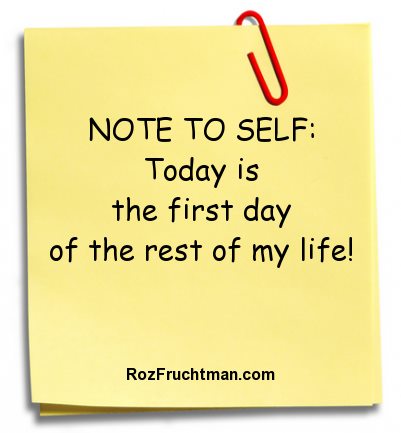 Happy New Year!  Welcome to 2014!
Today is the first day of the rest of my life!  How many times I've said that in the past decades.  I get a sick feeling each time I remember all the wasted time.  Realistically all that so-called wasted time brought me to the person I am today.  All that wasted time guided me to learn how to make right decisions and ultimately to embracing a healthy attitude toward what success REALLY is as opposed to what failure REALLY is.  REAL success has NOTHING to do with money!
With all the hoopla of a new year and grand expectations I will admit I haven't made any formal resolutions ~YET.  What I know is, I was NOT happy with the way things were and to me, it's common sense to change them!  I DO have one or two things — maybe three —  that I WANT to achieve in the first quarter of 2013.  It's not only a want, but a MUST!  The point is, I WANT the outcome of these things and I believe THAT wanting will be the GRAND motivator this time around.
In the past I've self sabotaged with so many plans it was absolutely impossible to achieve them. Last year I was burnt out multiple times and I'm still not where I want to be, but I've made hard decisions and changed my attitude toward those things that were crippling me for so long.
Why should you care?  Better yet… Why am I sharing this with you.  Well, I feel by me sharing, I might be able to inspire you to look forward with new eyes and a new attitude.  The most important thing I learned last year was that my failures were a thing, they were NOT me.  In other words if my dream or business failed, "I WAS NOT a failure!"  Until that point I was UNABLE to separate myself from the things I did or wanted to do.  Once I was able to make that separation, things began to move in a completely different direction, one that was positive and filled with joy.
Today really is the first day of the rest of my life, AND yours too!  WE CAN make a decision to change focus at ANY time, it does NOT have to be the beginning of any year.  It can happen in a split second! NOW or at ANY time!!!
In closing I'd like to encourage you to take some quiet time and THINK about the things YOU want to do, write them down.  THEN… DECIDE and list the actions necessary to achieve your desires and goals.  IF they don't work, try something else.  IF that does not work, try something else.  Continue UNTIL you reach the YOUR desired outcome! NEVER NEVER NEVER give up, make adjustments and continue on!
COMMENTS
I would love to hear your thoughts and comments.  Please share them in the Comment Box below. I look forward to sharing with you. Let's create a "community of encouragement and inspiration!"
Have a great day!
Luv & Hugs,
Roz Fruchtman
http://www.sayitwithecards.com
LET's CONNECT
Follow Me on Pinterest
http://www.pinterest.com/sayitwithecards
Follow Me on Twitter
http://www.twitter.com/sayitwithecards
Be My Friend on Facebook
http://www.facebook.com/rozfruchtman
Connect With Me On LinkedIn
http://www.linkedin.com/in/rozfruchtman