Roz Asks – What Are You Doing Today to Celebrate 12-12-12?
12-12-12 ~ For most this is a once-in-a-lifetime event.  What are you doing today to celebrate 12-12-12?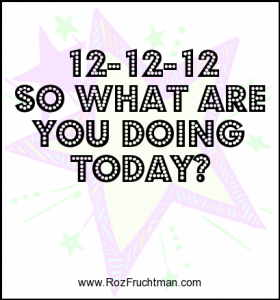 Perhaps you are having a sale or taking advantage of one.  It's gonna be an interesting time on the web today!
COMMENTS
I would love to hear your thoughts and comments.  Please share them in the Comment Box below. I look forward to sharing with you. Let's create a "community of encouragement and inspiration!"
Have a great day!
Luv & Hugs,
Roz Fruchtrman
LET's CONNECT
Follow Me on Pinterest
http://www.pinterest/sayitwithecards
Follow Me on Twitter
http://www.twitter.com/sayitwithecards
Be My Friend on Facebook
http://www.facebook.com/rozfruchtman
Connect With Me On LinkedIn
http://www.linkedin.com/in/rozfruchtman