JOIN ME at @RozSpirations
UPDATED:  August 23, 2021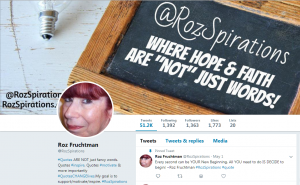 JOIN ME at @RozSpirations where I post inspirational quotes and words of wisdom bi-hourly.
You might think that bi-hourly is too much, but the truth is that on Twitter a Tweet does not have a long life.
Go to:
http://www.Twitter.com/RozSpirations
to keep inspired 24/7, no matter where you live or what time zone you are in.
We are also on Facebook in a Private Group at
http://www.Facebook.com/groups/RozSpirations (Facebook Community)
And at:
http://www.Facebook.com/RozSpiratons (Facebook Page)
BIG HUGS…
Roz Fruchtman aka @RozSpirations on Twitter and Facebook
http://www.RozSpirations.com